Qlik Sense August 2021
The latest named version of Qlik Sense has just been released this week for client managed environments. Qlik is continuing to advance key visualisations such as the combo chart and geomapping capabilities to free developers to create extremely bespoke and advanced dashboards. In addition, the humble table chart has received a long-awaited new feature. All the updates can be noted below.
Combo Chart Improvements
021 is clearly the year of the combo chart. Qlik have made even more improvements than in the previous release to allow some great new features for developers. Firstly, developers can now set the individual colours of each measure easily and directly within the combo chart. This can be a single colour or a colour expression. In addition, users can now add bars on the secondary axis. Both these features now make the combo chart a must use for all applications!

Conditional Icons on Maps
Qlik's out of the box geomapping capability continues to outshine its competitors with further improvement. In previous releases, it became possible to use custom icons from the media library. However, with this release, it is now possible to use an expression to load an image from a URL allowing for conditional icons depending on data. This will give developers the freedom to create extremely informative and interesting maps.

Dark Mode in Maps
Alongside conditional icons, a new dark base map has been added which is extremely useful to when attempting to accentuate certain colours or if it matches your colour scheme.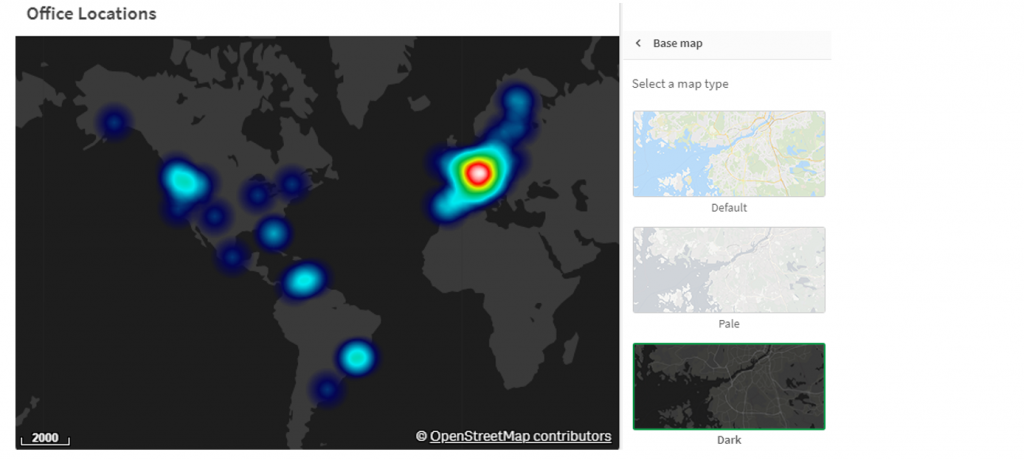 Images available in Tables
At last, it is now possible to add images into a straight table. This is one that has been requested by many developers and end users but was not possible without an extension until now. This ability can dramatically improve the look and feel of a dashboard and make tables more intuitive to use. A big win for all developers and end users.

Augmented Analytics
Qlik's drive to improve advanced analytical capability has yielded a new function called MutualInfo. This function returns the measure of influence from one field to another. This will enable end users to understand which fields are drivers of a target field with a simple percentage score.

Update to dependency underscore.js library to 1.13
This is for those developers utilising the underscore.js library. This change fixes a potential security issue with the underscore.js library, but it causes some breaking changes to extensions and mashups that use the library.
Upgrading to Qlik Sense August 2021
This named release has some brilliant updates and features that will be well received by the Qlik community. As ever, if you are a Catalyst BI hosted customer, we will be in touch and will take care of the update for you over to August 2021. Otherwise, please contact your account manager.
Author: Dan Homer – BI Consultant