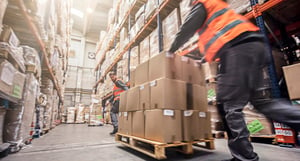 DATA ANALYTICS FOR MERCHANTS
Helping UK Merchants optimise supply chain and reduce costs
Gain better visibility of customer activity and profitability
Our flexible interactive dashboards help plumbing, heating and building merchants who want to gain better visibility of customer activity and profitability, improve negotiations and rebate management with suppliers while improving stock availability and reducing obsolete stock.
By bringing people and data together Catalyst BI can provide a 360 degree of customer behaviour and increase control over supplier negotiations and rebate management
Why Do Merchants Need Data Analytics?
Improve stock management
Manage rebates effectively
Reduce burden on IT team
Improve sales
Empower purchasing teams

Qlik technology provides Travis Perkins the right tools for the job
Catalyst enables Travis Perkins plc to understand the true nature of its HR data
WHERE WE HELP MERCHANTS
Giving your colleagues better access to information enables better decision making across the organisation. These are just some of the examples where we are empowering teams to perform better by utilising their data.

HR
Our HR Analytics Dashboards support Store and Regional Managers and Operational Directors to manage talent and churn. By directly linking and sharing data with their recruitment teams, they can support the effective running of the business.

Cash Flow
Supplier cash flow management solutions enable Financial Planning & Analysis Managers (FP&A) to predict where suppliers may struggle to make payments. This allows the finance team and category managers to receive early warning of any issues.

Supply Chain
Our supply chain dashboards help to minimise any gaps in availability by enabling access to multiple data sets around stock by location, stores and product ranges.
"Catalyst have been a critical partner to Travis Perkins in their journey to revolutionise the way we leverage data to drive our business."
"The Qlik solution has made a massive difference to our business… it was like moving from the old manual dial-up telephone to an iPhone!"
"Catalyst's 'long game' approach makes for a very productive and strategic partnership.".
Our Builders Merchants Experts On-Hand
Schedule a Meeting Today!
Schedule a meeting with our Builders Merchant Expert Derek Hufton and see how together you can develop the right data strategy, systems and data culture that empowers your whole business to achieve value, faster.