This year has been a rollercoaster to say the least. However, it has given me and the team here at Catalyst BI an opportunity to work on probably the most innovative, boundary-pushing product that we have ever built. From first hearing the concept from innovator Ramm Mylvaganam, it was clear that this product was not only going to push the limits of what was possible with Qlik but was an opportunity to develop something truly pioneering.
The Product Idea
Ramm envisioned Ai Abacus to be a portal to give football analysts and agents 'direct access to a range of unique, intelligence-driven insights and interactive features' for over 100,000 players and over 10,000 teams. In basic terms, this would be a portal with millions of rows of football related data with a front end enabling the user to predict and simulate player performance.
Now, as a company who specialise in Qlik, holding millions of rows and creating a sleek interface is our day job. However, what differentiates Ai Abacus is the requirement for a bespoke portal that users could both create accounts and manage subscriptions in but would also require to interface with numerous predictive API's on the fly to simulate player performance.
Our Solution
Thankfully, a front-end portal or 'mashup' is a common requirement for our customers. And, our resident expert Percy Musaka, has been developing our plug and play portal tool named 'Coeus'. It is a very aptly named product, as Coeus is the titan of resolve and intelligence and both qualities were required in delivering Ai Abacus!
The partnership of 'Coeus and Qlik bring both the world class data manipulation and rapid development capabilities of Qlik, together with a customisable portal interface which can be completely redesigned with web features simply not possible in Qlik. With this approach you get an interface where to the untrained eye you would not know Qlik is sat behind running the show with its awesome associative engine as you can see below!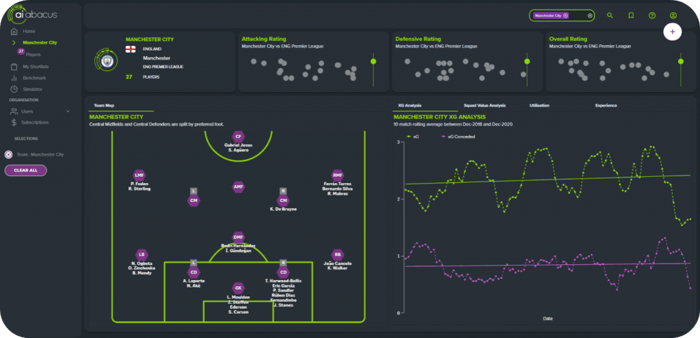 AI Abacus Team Page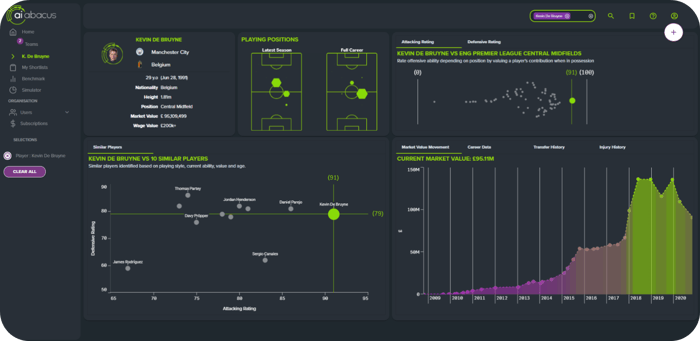 AI Abacus Player Page
All the charts are powered by Qlik bringing into the portal full interactivity and native searching ability. This means you can develop these pages far quicker than building a custom web portal. The importance of this cannot be overstated. Creating a web portal from scratch by developing a custom data model framework with fully bespoke charts would take multiple times longer and require a large team of developers. However, with Qlik, we get the best of all worlds and it truly proves the power of Qlik Sense's open APIs.
The Simulator
And for the grand finale, we were required to have the ability to simulate a player transfer to understand the player's chemistry, suitability and cost benefit in the new prospect club. For this, Percy pulled something quite remarkable out of his hat. He took the player selections made from Qlik and passed them to a predictive API provided from the data scientists at Ai Abacus. This enables a user to select any player in our data model and simulate to any team. All the predictions are done on the fly. For example, below I simulate Thomas Müller moving to Barnsley FC (I can dream…)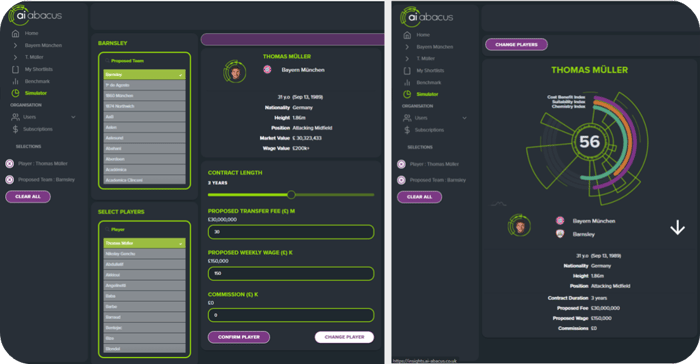 AI Abacus Simulator Page
As you can see, once I input the desired contract fees and click "simulate", the three indexes are returned with a total average score for the transfer. A score of 100 is a perfect transfer, with 0 being the worst possible transfer. The calculations are done instantly returning a result in seconds.
Final Thoughts
All these features have pushed our technical limits, but with Catalyst BI working in partnership with designers from Banana Kick and data scientists Ryan Beal and Tim Matthews, the result is truly something special. And this is just the beginning of the product with a packed roadmap of developments ahead. So, expect more to come!
Author: Dan James | Qlik Consultant