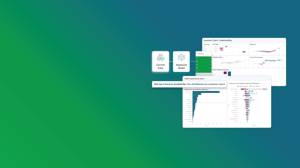 QLIK AUTOML
Revolutionise Analytics with Automated Machine Learning: A No-Code Solution for Cutting-Edge Team Performance.
Stop Losing Customers Today with Qlik AutoML
Transform Customer Retention with Intelligent Predictions
Are you tired of watching valuable customers slip away? In the demo you will learn the following:
The step-by-step process on how Qlik AutoML predicts customer churn and explains which drives you can use to reduce this
A real-life use case of what a customer churn model will look like for your business
Detailed information of how the implementation process would work
HERE'S HOW IT WORKS
THE PROCESS
Join the growing number of businesses transforming their approach to customer retention with Qlik AutoML. It's time to turn predictions into profits and make customer churn a thing of the past.
Pinpoint the exact moments that lead to customer churn, such as subscription sign-ups, and tailor your strategies accordingly.
Utilise a 110-day horizon to accurately predict churn events, capturing the nuances of customer behaviour.
Set prediction points like 60 days after sign-up, giving you enough time to engage with at-risk customers.
Benefit from fixed and window-dependent features, reflecting real-time insights and avoiding data leakage.
Tailor Qlik AutoML to your unique business needs, ensuring you have the right tools to retain your customers.
Our dedicated team is always here to assist you, ensuring you make the most of Qlik AutoML.
WHAT MAKES IT SO POWERFUL
EXPLORE THE OTHER EXCITING CAPABILITIES
TOUCH
Sales
Win / Loss Forecasting
Customer Churn / Retention
Customer Prospecting / Targeting
TOUCH
Operations
Workforce Demand Prediction
Capacity Allocation
Appointment Cancellations
TOUCH
Marketing
Demand / Revenue Forecasting
Customer Lifetime Value
Customer Next Best Offer
TOUCH
Finance
Capital Investment Optimisation
Expense Management
Risk Management / Reduction
TOUCH
HR
Employee Retention
Employee Satisfaction
Recruiting / Candidate Profiling
TOUCH
Supply Chain
Inventory Stock-Outs Prediction
Supply Chain Performance
Transportation Optimisation
SEE QLIK AUTOML IN ACTION
"The first thing I noticed was how easy it was to get started. But when I realized the power of Qlik Cloud's modeling capabilities, that's really what locked us in. We haven't looked back since."
"Machine learning using AutoML on Qlik Cloud has really given us direct clarity as to what will make a difference. Instead of guessing, we now know what will bring results."
"The accuracy of Qlik AutoML means I don't worry. I can just present findings to end users and see the lightbulb moments happening in front of me."
HOW CAN WE HELP YOU?
See some of the answers to the common questions around Qlik AutoML.
What is Qlik AutoML?
Qlik AutoML is a feature within Qlik that allows users to automatically build, train, and deploy machine learning models. This automates the process, making it more accessible to users who may not have a deep understanding of machine learning algorithms.
How can I use Qlik AutoML?
You would typically access Qlik AutoML through the Qlik interface, where you can select the data you want to use, choose the type of model you want to train, and then deploy the model.
What types of data can I use with Qlik AutoML?
AutoML usually accepts various types of structured and unstructured data. In the case of Qlik AutoML, you will likely be able to utilise data sources connected to Qlik, such as databases, spreadsheets, or other supported formats.
What models can I build with Qlik AutoML?
Common types of models include regression, classification, clustering, and deep learning models.
Can non-experts use AutoML?
AutoML solutions are generally designed to lower the barrier to entry for machine learning, so it would likely be suitable for users who do not have an extensive background in machine learning. However, a basic understanding of data analysis and modeling concepts could be helpful.
How does AutoML handle pre-processing?
Many AutoML solutions automate data preprocessing steps, such as missing value imputation, normalization, and encoding of categorical variables. Qlik AutoML would probably offer similar functionalities.
LET'S BUILD SOMETHING TOGETHER
Leverage your historical data to predict the future outcomes of your business. Master the power of predictive analytics.